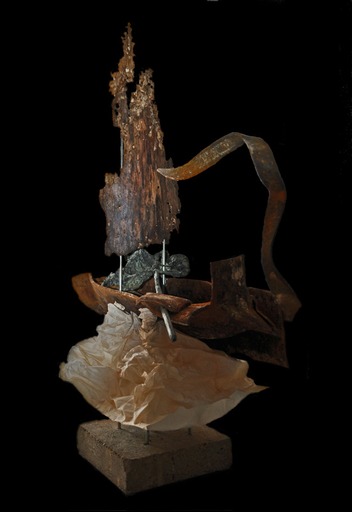 Chrys Steegmans was born on 14th February 1955 in Heerlen, The Netherlands. In 1975 he started studying sculptural design at the Academy of Fine Arts Maastricht, which he finished succesfully in 1980. In 1985, after he had lived in Belgium for a few years, he moved to the village Houthem St. Gerlach in the south of Limburg. There, in the lower part of the ''Geuldal'', his love for nature revived. Rummaging around through the surroundings, the direction of his creativity was constructed. In 2003 he moved to Maastricht. In July 2008 he moved with his partner into premises at the Brusselsestraat. The lowest floor serves as both exhibition and atelier.
His various work cannot be subdivided to one single discipline. Sculptures, paintings, photographes, films, book illustrations and objects of nature are some forms of art which he used to express his creativity. His work is versatile, but the elements people, nature and decline are always represented in his work.
This site gives the visitor an impression of the artistic expressions of Chrys Steegmans.
Welcome!